25


PEPE REINA

Data i miejsce urodzenia: 32 sierpień 1982 w Madrycie

(Hiszpania)

Wzrost: 188 cm
Lepsza noga: prawa
Pozycja: bramkarz
Poprzedni klub: Bayern Monachium

Kontrakt: 30 czerwca 2018 roku
Jose Manuel Reina lub po prostu Pepe Reina przyszedł na świat 31 sierpnia 1982roku. Urodził się on w Hiszpanii, a dokładniej w Madrycie. Jose pomimo tego, że urodził się w Hiszpanii to swoje pierwsze kroki stawiał w katalońskiej FC Barcelonie. Najpierw w sezonie 1999/2000 występował w Barcelonie B, w której zagrał 41 oficjalnych spotkań. Następnie został przeniesiony do FC Barcelony i przez dwa lata rozegrał dla Barcy 30 spotkań. Był on jednak w Barcelonie tylko zmiennikiem bardziej doświadczonego Roberto Bonana.
W 2002 roku przeszedł z Barcelony do Villarealu za około 750 tysięcy euro. W ekipie Żółtej Łodzi podwodnej radził sobie doskonale i z marszu został pierwszym bramkarzem w drużynie. Przez trzy sezony rozegrał dla Villarealu aż 109 spotkań. W sezonie 2004/2005, gdy drużynę prowadził Manuel Pellegrini, Villareal z Reiną między słupkami zakończył sezon na trzecim miejscu w lidze, co było dla tego klubu sporym osiągnięciem.
Kiedy przechodził do Liverpoolu w lipcu 2005 roku za 4,5 miliona euro., Rafa Benítez określił go jako "najlepszego bramkarza w Hiszpanii". Reina w Liverpoolu zadebiutował w kwalifikacjach Ligi Mistrzów 13 lipca 2005 przeciwko Total Network Solutions FC.. Reina od razu został numerem jeden na Anfield, odsyłając znanego Polskim kibicom Jerzego Dudka na ławkę. Przypomnijmy, że do Liverpoolu przyszedł zaraz po tym jak ten wygrał Ligę Mistrzów. Pierwszy sezon Reiny zakończył się na finale Pucharu Anglii z West Ham United. Pomimo, że popełnił kilka błędów w regulaminowym czasie gry, raz jeszcze udowodnił swoją umiejętność bronienia karnych i został dzięki temu bohaterem. Reina zablokował trzy z czterech strzałów West Hamu w karnych, a Liverpool zdobył siódmy raz w historii FA Cup, a Pepe swój pierwszy puchar w karierze. Reina nie spoczął na laurach, ponieważ Liverpool czekał na półfinał Ligi Mistrzów z Chelsea. Benítez mógł dziękować, że miał swojego bramkarza między słupkami, kiedy the Reds wrócili ze Stamford Bridge ze stratą tylko jednej bramki. Pojedynek zakończył się ostatecznie na rzutach karnych, w których zwyciężył Liverpool. Jak się później okazało, podczas gdy Reina bronił jedenastki Arjena Robbena i Geremiego, złodzieje plądrowali jego mieszkanie. Trzy tygodnie później w Atenach, Reina został trzecim piłkarzem w historii, który poszedł w ślady swojego ojca i zagrał w finale Pucharu Europy. Niestety, tak jak były bramkarz Atlético Madryt Miguel Reina Santos, był po stronie przegranych. Selekcjoner reprezentacji Hiszpanii Luis Aragonés zabrał bramkarza Liverpoolu na Mistrzostwa Świata 2006 w Niemczech, chociaż Reina nie zagrał ani minuty z powodu konkurencji Ikera Casillasa i Santiago Canizaresa. Kolejny sezon zakończył się dla the Reds bez trofeum, chociaż Reina trzeci rok z rzędu otrzymał nagrodę Złotej Rękawicy za najwięcej meczów bez straty bramki w Premier League. Sezon 2008/2009 zakończył wraz z drużyną na drugim miejscu w Premier League. Lepszą drużyną od Liverpoolu okazał się tylko Manchester United, który miał o 4 punkty więcej od The Reds na koniec sezonu. Z ligą mistrzów Liverpool pożegnał się w ćwierćfinale, gdzie po raz drugi z rzędu lepsza okazała się Chelsea. Następny rok dla Reiny i Liverpoolu był fatalny. Jego drużyna zakończyła sezon na 7 miejscu i odpadła z Ligi Mistrzów już w fazie grupowej. Był to ostatni sezon w którym Pepa w Liverpoolu trenował Rafa Benitez. Liverpool chciał uratować sezon wygraną w Pucharze Uefa, ale ich marzenia zakończyły się na półfinale w którym po dogrywce musieli uznać wyższość Atletico. Kolejne dwa sezony były dla Reiny i The Reds jeszcze gorsze choć w sezonie 2011/2012 Reina zdobył z drużyną puchar Ligi Angielskiej. W lecie 2013 roku, gdy Liverpool sprowadził do siebie utalentowanego Simona Mingoleta stwierdził, że to najwyższy czas, aby po ośmiu latach opuścić ekipę The Reds.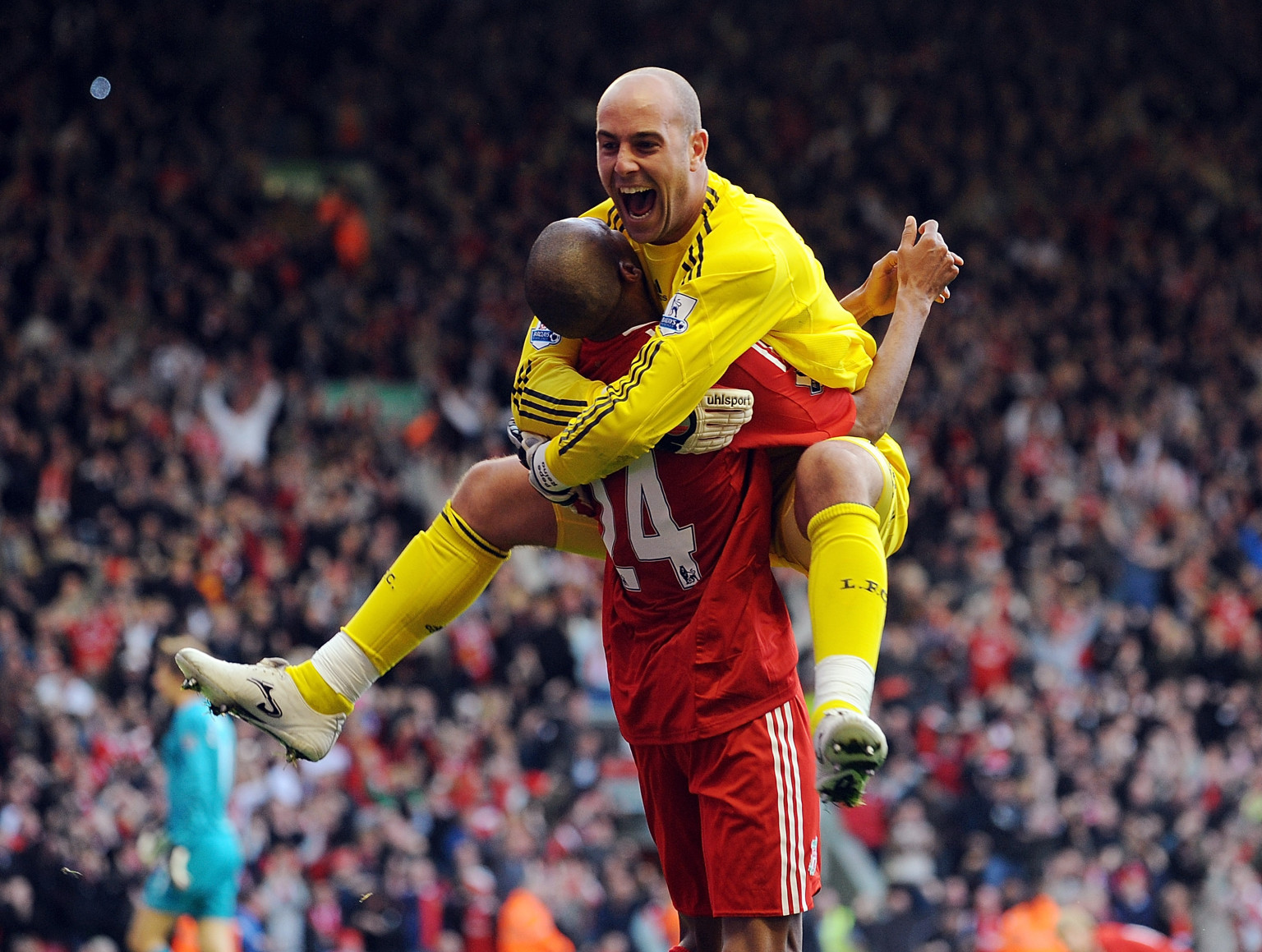 29 lipca 2013 roku Pepe Reina został wypożyczony na rok z Liverpoolu do Napoli w którym nowym trenerem był Rafael Benitez. Hiszpański bramkarz znał już z wcześniejszych lat Beniteza i miał z nim świetne relacje. Napoli z Reiną między słupkami zajęło 3 miejsce w Serie A w sezonie 2013/2014 oraz wygrało Puchar Włoch pokonując w finale Fiorentinę 3:1. W europejskich pucharach Napoli odpadło w fazie grupowej ligi mistrzów zajmując trzecie miejsce, a następnie Azzurri musieli uznać wyższość Porto i odpadli w 1/8 finału z Ligi Europejskiej. Reina zagrał w barwach Napoli 30 spotkań w Serie A. Po sezonie Azzurri nie wykupili Hiszpana i ten wrócił do Liverpoolu.
Po powrocie z wypożyczenia Reina został sprzedany do Bayernu Monachium za 9 milionów euro. Pepe był jednak w Bayernie prowadzonym przez Guardiolę tylko dublerem Manuela Neuera. W całym sezonie 2014/2015 rozegrał zaledwie 3 spotkania. Pomimo kruchej liczby występów, Reina po raz pierwszy w karierze wygrał rozgrywki ligowe (Bundeslige).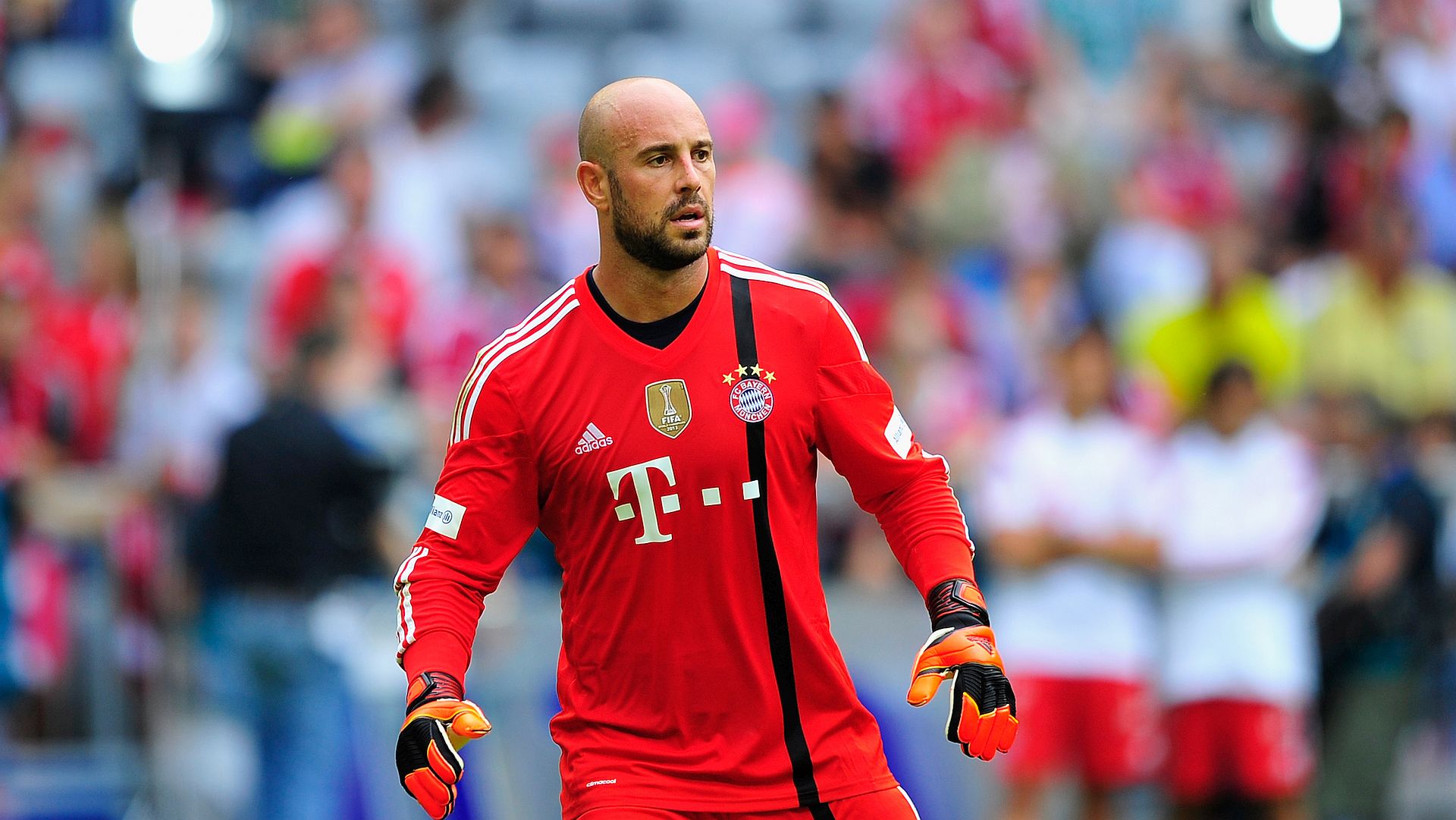 W lipcu 2015 roku Pepe powrócił do Napoli. Azzurri zapłacili za niego Bayernowi 3 miliony euro. Reina w pierwszym wywiadzie po powrocie powiedział: "W Neapolu wraz z rodziną świetnie nam się mieszkało i mamy tu wielu przyjaciół. Jestem bardzo zadowolony z tego, że będę mógł tu ponownie zagrać i mam nadzieję, że uda nam się wygrać coś ważnego dla klubu" Jak na razie w obecnym sezonie Reina rozegrał 30 spotkań w Serie A, 5 w Lidze Europejskiej oraz 2 w Pucharze Włoch. Niedawno powiedział on, że gra mu się świetnie w Neapolu i chce zakończyć karierę w ekipie spod Wezuwiusza.
Po raz pierwszy do drużyny narodowej José Reina został powołany 18 sierpnia 2005 roku na mecz z Urugwajem, który Hiszpania wygrała 2:0.Selekcjoner reprezentacji Hiszpanii Luis Aragonés zabrał bramkarza Liverpoolu na Mistrzostwa Świata 2006 w Niemczech, chociaż Reina nie zagrał ani minuty z powodu konkurencji Ikera Casillasa i Santiago Canizaresa.Jose został powołany na Euro 2008, gdzie zagrał w spotkaniu przeciwko Grecji, wygranym przez jego reprezentację 2-1. Zdobył z reprezentacją Mistrzostwo Europy 2008, Mistrzostwo Europy 2012 i Mistrzostwo Świata 2010. Jak dotąd wystąpił w kadrze już 33 razy. W 2000 roku rozegrał także trzy spotkania dla reprezentacji Katalonii.
Tekst: Gabrielo; Grafika: Gandak; Zdjęcia: Google.com